Mozec™
Rx PTCA Balloon Dilatation Catheter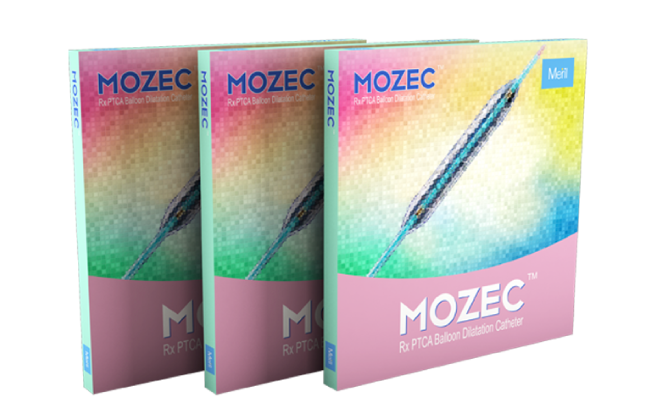 MOZEC RX PTCA BDC
MOZECTM Rx PTCA Balloon Dilatation Catheter is indicated for balloon dilatation of coronary artery or bypass graft stenosis thereby improving myocardial perfusion.
US-FDA approved and also available in China, Japan, Canada, Australia, Korea, Latin America, Asia, Middle-East and Africa.
Ultra-low 0.016" distal tip entry profile that ensures navigation through tight lesions.
Small abrupt balloon shoulders help to avoid injury to healthy vessel adjacent to the lesion.
New NovalonTM balloon material with multi-fold ensures overall low-wrapping profile.
MeriStemTM hypo-tube shaft for enhanced support and pushability with MeriGlideTM hydrophilic coating on distal shaft for smooth trackability.
Swaged low profile RO marker band for accurate visibility.
5 Fr guide catheter compatible and 6F compatibility for kissing balloon.
Benefits
Low tip profile for crossability through tight lesions.
Best in class trackability and pushability for ease of navigation.
Quick Inflation & Deflation.
1.25 and 1.50 mm best suited for CTO lesions.
US-FDA approved.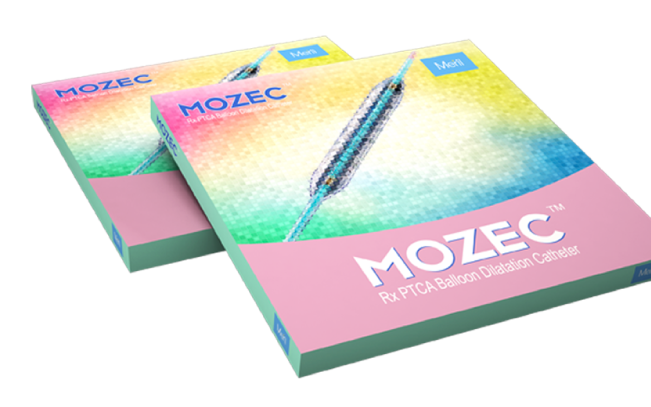 | | |
| --- | --- |
| Catheter Design | Rapid Exchange |
| Tip Entry Profile | 0.016" |
| Crossing Profile | 0.024" |
| Balloon material composition | NovalonTM |
| Balloon Compliance | Semi-compliant |
| Hydrophilic Coating | MeriGlideTM – from base of distal tip to Rx-port |
| Nominal | 7atm |
| RBP | 16atm for 1.25 to 4mm diameters; 14atm for 4.5mm diameter |
| DIAMETER / LENGTH | 6 MM | 9 MM | 12 MM | 14 MM | 15 MM | 17 MM |
| --- | --- | --- | --- | --- | --- | --- |
| 1.25 mm | MOZ12506 | MOZ12509 | MOZ12512 | | MOZ12515 | |
| 1.50 mm | | MOZ15009 | MOZ15012 | | MOZ15015 | |
| 2.00 mm | | MOZ20009 | MOZ20012 | | MOZ20015 | |
| 2.25 mm | | MOZ22509 | | MOZ22514 | | MOZ22517 |
| 2.50 mm | | MOZ25009 | | MOZ25014 | | MOZ25017 |
| 2.50 mm | | MOZ25009 | | MOZ25014 | | MOZ25017 |
| 2.75 mm | | MOZ27509 | | MOZ27514 | | MOZ27517 |
| 3.00 mm | | MOZ30009 | | MOZ30014 | | MOZ30017 |
| 3.50 mm | | MOZ35009 | | MOZ35014 | | MOZ35017 |
| 4.00 mm | | MOZ40009 | | MOZ40014 | | MOZ40017 |
| 4.50 mm | | MOZ45009 | | MOZ45014 | | MOZ45017 |
| DIAMETER / LENGTH | 20 MM | 25 MM | 30 MM | 33 MM | 38 MM | 41 MM |
| --- | --- | --- | --- | --- | --- | --- |
| 2.25 mm | MOZ22520 | MOZ22525 | MOZ22530 | MOZ22533 | MOZ22538 | MOZ22541 |
| 2.50 mm | MOZ25020 | MOZ25025 | MOZ25030 | MOZ25033 | MOZ25038 | MOZ25041 |
| 2.75 mm | MOZ27520 | MOZ27525 | MOZ27530 | MOZ27533 | MOZ27538 | MOZ27541 |
| 3.00 mm | MOZ30020 | MOZ30025 | MOZ30030 | MOZ30033 | MOZ30038 | MOZ30041 |
| 3.50 mm | MOZ35020 | MOZ35025 | MOZ35030 | MOZ35033 | MOZ35038 | MOZ35041 |
| 4.00 mm | MOZ40020 | MOZ40025 | MOZ40030 | MOZ40033 | MOZ40038 | MOZ40041 |
| 4.50 mm | MOZ45020 | MOZ45025 | MOZ45030 | MOZ45033 | MOZ45038 | MOZ45041 |