With new innovations in ultrasound, digital radiography and mobile computed tomography, Samsung Electronics is highlighting its expansive medical imaging portfolio
Samsung Electronics is unveiling its latest Ultrasound, Digital Radiography, mobile Computed Tomography (CT) and software innovations at the Radiological Society of North America (RSNA) 2019 Annual Meeting at McCormick Place in Chicago, Illinois.
"Samsung is continuing its commitment to deliver meaningful innovation in medical imaging, responding to customers' ever complex healthcare needs," said Dongsoo Jun, President of Health & Medical Equipment Business at Samsung Electronics and CEO of Samsung Medison. "We plan to continue our rapid pace of new innovation for the radiology market by leveraging our industry leading Image and Signal Processing and AI advances."
On display at Samsung's booth during the event are the following technologies:
Ultrasound System
RS85 Prestige1, the evolution of the RS85, comes with new imaging Architecture and value added features.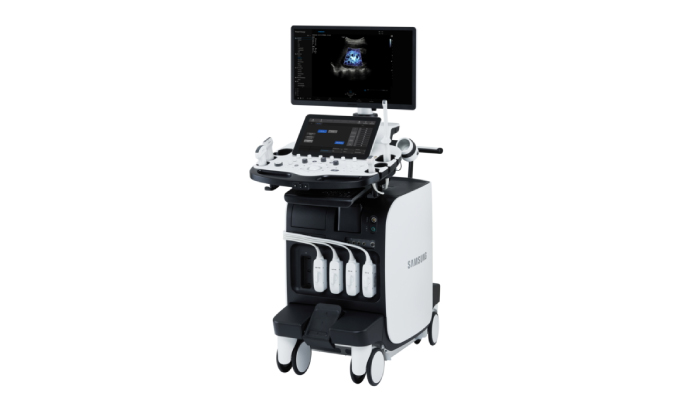 Imaging Architecture
Crystal Architecture™ – an imaging architecture that combines CrystalBeam™ beamformer and CrystalPure™ imaging engine, combined with the S-Vue Transducer™ which provides crystal clear images.
CrystalBeam™ – a new beamforming technology which delivers high-quality image resolution and increased uniformity of images.
CrystalPure™ – Samsung's latest ultrasound imaging engine with enhanced 2D image processing and color signal processing, offering outstanding image performance and efficient workflow in complex cases.
Value Added Features
MV-Flow™ with LumiFlow™ – offers a detailed view of blood flow in relation to the surrounding tissues with enhanced spatial and temporal resolutions and provides three-dimensional visualization with continuous and 3D-like vascular images.
ShadowHDR™ – provides a shadow suppressed image, which is especially useful in capturing highly attenuated regions behind bony structures.
PureVision™ – an image processing function that produces clear images with uniformity by performing Speckle Noise Suppression and Edge Enhancement on B-mode.
Digital Radiography
Samsung is showcasing its premium ceiling X-ray GC85A and mobile X-ray GM85 which have been granted ATO (Authorization To Operate) for the Risk Management Framework (RMF) program set forth by the United States Department of Defense (DOD) for high level of cybersecurity regulations, while also exhibiting its new detector line-up with enhanced usability.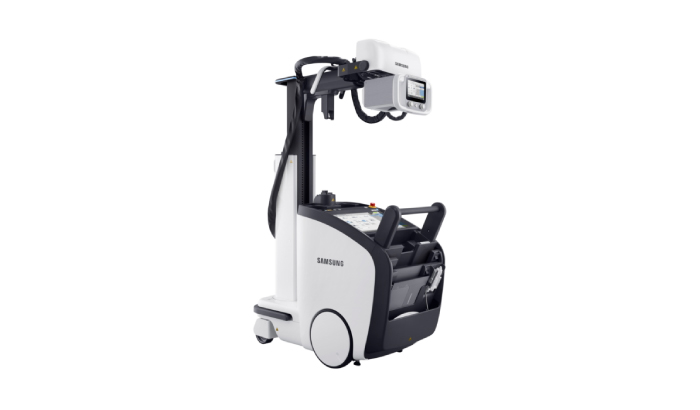 S-Vue™ – provides high quality images for diagnostic accuracy and confidence. The S-Vue™ imaging engine's adaptive filtering and processing technologies reduce X-ray radiation dose for pediatric patients without compromising the image quality. The dose level can be reduced up to 45% for pediatric abdomen, 15.5% for pediatric chest, and 27% for pediatric skull exams with the new S-Vue™ engine.
Auto Lung Nodule Detection2 – an AI-based CAD (computer-aided detection) software used to identify and detect lung nodules. It is designed to aid the physician in reviewing chest PA radiographs of adults. The new ALND feature is currently available for sale in Europe (CE marked) and Korea.
SMART Center – an enterprise-level quality asset monitoring solution which aggregates data from multiple Samsung Digital Radiography devices into one easy-to-use platform. Users can reduce downtime and unnecessary tasks by having centralized control over the DR systems.
Computed Tomography
Samsung is highlighting additional mobile computed tomography (mCT) clinical cases demonstrating reduced response time by the medical team during emergencies, such as stroke, improving patient outcomes.
Featured at RSNA are BodyTom® Elite and OmniTom® – mobile whole-body and head CT. These mCTs can be used at the point of care, whenever imaging is needed to determine ideal treatment strategy for the patient – without restrictions of physical space and power. Samsung's NeuroLogica mCT devices are routinely used by leading institutions in intensive care units, emergency rooms, orthopedic and neurosurgery rooms, brachytherapy suites and ambulances. In addition, Samsung Neurologica, in partnership with Winnebago, will be displaying a mobile lung screening vehicle, which will make this technology more accessible in remote areas.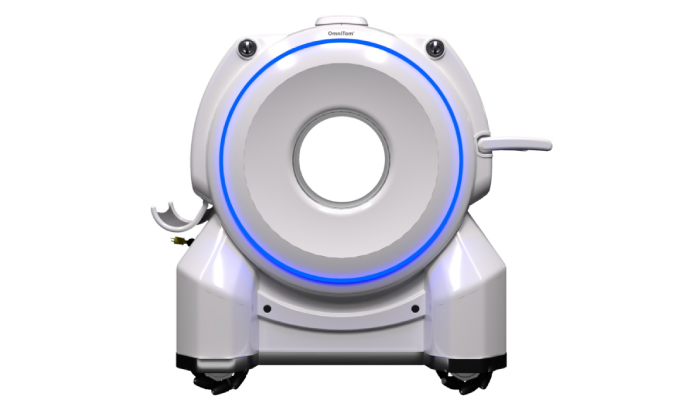 Lastly, Samsung will display a Photon Counting Detector (PCD)3 – cutting-edge technology that measures photons emitted by X-rays. PCD, currently under development, has the potential to allow for dose optimization allowing the user to reduce the exposure while maintaining image quality, or increase the image quality by keeping dose equivalence compared to currently used CT detectors. In addition, it should deliver increased data mining capabilities from multiple-energy binning and contribute to the improved utility and effectiveness of AI applications.
Visitors can experience Samsung's differentiated diagnostic assistive functions and solutions directly at booth #4783 (South Building, Hall A).
Additionally, the attendees can also find a separate 'AI zone' that allows visitors to experience Samsung's latest AI technology.
For more information on Samsung's healthcare business, and products, please visit https://www.samsunghealthcare.com.
[1] RS85 Prestige is 510(k) pending and not available for sale in USA.
[2]ALND is not for sale in the Unitd States.
[3] Product is under development and not available for sale in USA or any region of the world.